Ready for more great rewards? For our newest Fun Month contest, we're going back in time…
This month's photo contest is a chance to revisit simpler days. The rules are simple:

Send us your favourite photo of you when you were a kid with the hashtag #throwback written on it. The more nostalgic and fun the picture, the better!

IMPORTANT: Your photo needs to be an original picture of you and must have #throwback included for the submission to be approved.

There are 3 prizes available for the most-voted photos:
£30 - 3rd Place
£70 - 2nd Place
£150 - 1st Place Grand Prize

Don't forget to vote for your 3 favourite photos for an extra participation reward!

We hope to see all your amazing submissions soon!

REMINDER: Content must be your own and will be reviewed for suitability/originality within 48 hours. Google or other website pictures are not allowed.
If we find out that a previously confirmed submission is fake, the photo and all of its votes will be removed and your account will be blocked so please only post your own pictures!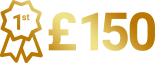 Winners will be announced in early September – good luck!
---